Using EQ To Mix Vocal Recordings (Hip-Hop & Pop Style)
One of the most important aspects of working with vocals in any Digital Audio Workstation is using EQ. EQ, which stands for Equalization, is the process of shaping a sound using its own frequencies. EQs are a huge part of creating a professional vocal sound, and understanding how to use them is a fundamental skill for any Producer or Audio Engineer.
The following strategies outline one way that I like use an EQ to shape a vocal.
Figure out your desired sound:
Do you want a crystal clear pop friendly vocal or are you going for an edgier distorted sound? Do you want your vocals to be the centre of attention for the listener or are they intended to be in the background complimenting another piece of your song? Your desired outcome is important to consider before you begin applying EQ to your vocal. Having an idea of what you would like your final product to sound like can help you to be more purposeful with your EQ.
Boosting and Cutting Frequencies:
Once you've determined how you want your vocal to sound it's time to start shaping it. This is done by boosting and cutting specific frequencies in your vocal using an EQ Plug In. For example, if you're going for a modern sound you can start by cutting lower frequencies which can often produce a muddy or boxy sound. Then you can boost some of the higher frequencies to give yourself that crisp, up-front vocal sound that you hear when listening to artists like Drake or The Weeknd.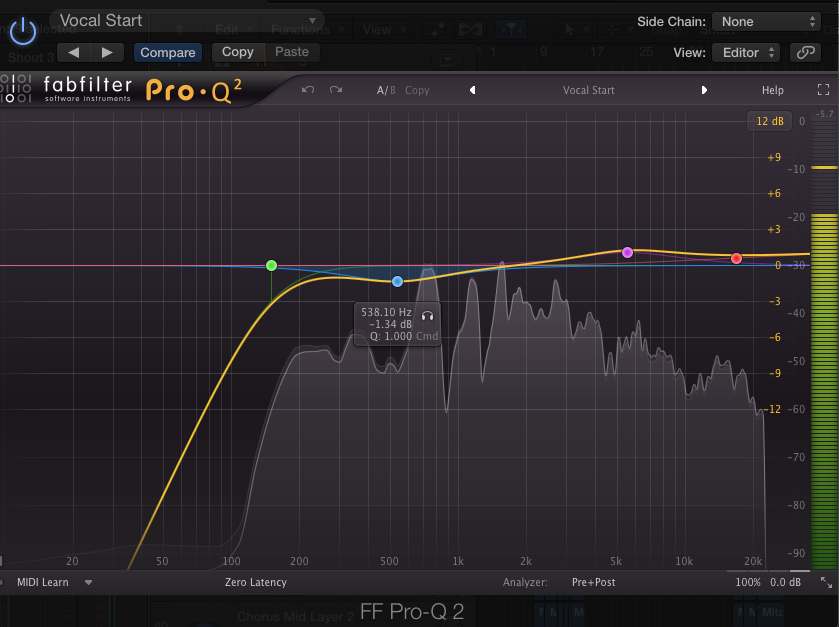 In the above graphic you can see that there are cuts around 150 and 550 Hertz and boosts around 5,000 and 10,000 Hertz. This is not the only way to go about shaping your vocals but this template can work as a great starting point. I'm using FabFilter's Pro-Q 2 Plug In for this example, however almost all DAWs will come with stock EQ plug ins that can get you great results. Using a visual EQ (like the one above) can be extremely helpful because you can see the frequency spectrum while you're working.
Get Creative & Take Your Time
Every vocalist is different and every song is unique, so there are no rules about which frequencies to boost or cut. The style of music that you're working on might call for a completely different approach than the one we've shown above. You'll want to spend a lot of time boosting and cutting different frequencies with your EQ to find out what works best for the specific vocal that you're working on.
An EQ is a powerful tool for shaping vocals, and as you spend more time with it you'll begin to shape your own unique style of using it!
—–
Conor "Conch" Wharton
Engineer, Producer
---
Bonus Material! 
Click Here To See How To Automate a Pitch Bend in Pro Tools Using Melodyne