Bass Lessons (Ages 6+)
Learn how to play Bass with Resonate Music Bass Lessons!
Resonate offers 30 minute and 60 minute private Bass Lessons for those ages 6 and older. Our Bass Lessons are customized by a Certified Resonate Music Instructor to be personally suited to your skill level.
With the recent developments around COVID-19, we've made all private lessons available online so the learning can continue! You can also click here to read our most recent update.
Become a Member Today!
The Resonate Membership Plan offers students an opportunity to devote themselves to learning music within a consistent yet flexible schedule. We understand that continuous musical involvement best promotes progress and that being constrained to enrollment in disjointed terms can slow a student's learning process.
This Plan eliminates the amount of time lost re-familiarizing students with material forgotten over lengthy breaks between terms, allowing for efficient and accelerated learning and in turn maximizing the value of their lessons.
Resonate Members also get access to incredible opportunities that range from working with a professional music engineer and producer in our recording studio to playing in large-scale rock concerts as part of the Let Your Sound Resonate Concert Series!
Click here for a detailed breakdown of the features and benefits of a Resonate Music Membership.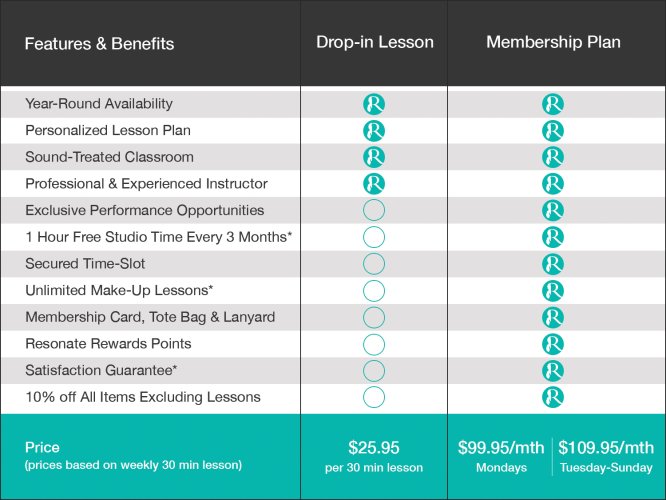 Register for Bass Lessons:
At Resonate, lessons are available seven days of the week, all year 'round. There's no term or school year which means no contract. You can get started whenever you want and finish whenever you want. Take it one month at a time for as long or as little as you'd like!
If you're ready to get started, one of our team members is waiting to match you with the best fit for your schedule and your stylistic preferences.